Our Staff...
...Their Stories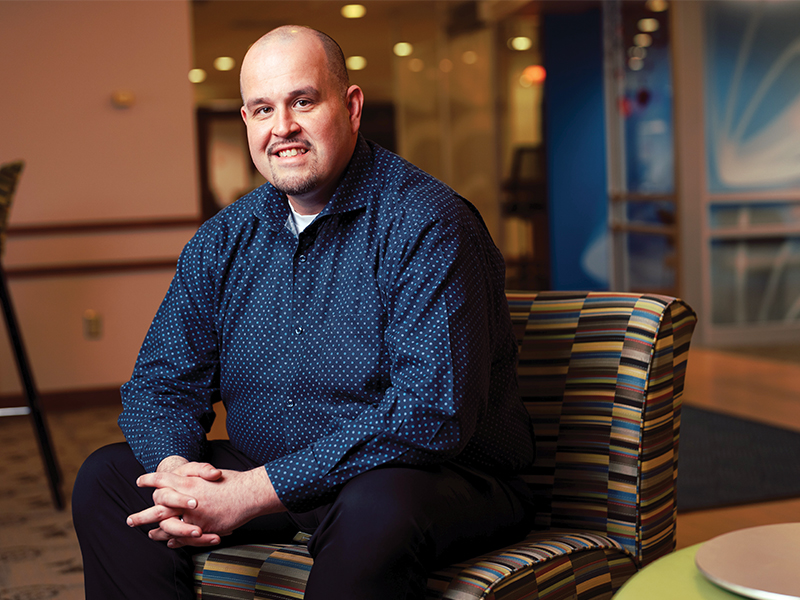 "I started out here in 2004 through the co-op program at Heritage High School. Heritage worked with Wildfire to create a school branch on campus, and hired students to cover the lunch hour. A few of the students would get to do a co-op.
I was 15 years old and working at a carwash when the job was posted at the school. The credit union was really only hiring good students—and I wasn't necessarily a good student. I was the class clown, and I was working at the car wash to help contribute to my household. My dad raised me and my brother. My mom abused us, took off, and went to jail, leaving my dad to raise us both by himself. He had health issues so he was on disability, but he always found a way to make sure we were fed and had a roof over our heads.
So, I applied, got an interview and went through the interview process. The vice president at the time said, 'Why should I hire you? You don't have great grades. So, what's going to make you stand out here?'
I made a commitment to her that I would get my grades up, and they hired me. I did get my grades up, and stayed on as a teller after graduation for another year. Then I went to work for Delphi for three years.
In 2009, when the economy tanked and everybody was laid off, my old teller supervisor saw me bring in an unemployment check. She said, 'Hey, have you ever thought about coming back? We're going to be doing a name change. Things are kind of scooting along. We've got some people who are going to be retiring.'
I said that I might, but I had just bought a house, so I couldn't give up my full-time job to come back here part time. But I applied and they brought me back.
For about seven months, I worked here from nine in the morning here until 1:30 in the afternoon and then I went to Delphi and worked from 3:00 to 11:00 at night.
Then an opportunity came up here to go full time, so I became a full-time teller for about six months. Then we built our branch out on State Street and when that happened, I was hired there to do new accounts. At the time, that was kind of a hybrid role, and in that position, I got to do loans as well. So, I started doing loans and that's where I really found my passion.
I worked in new accounts for about five years, and lending for maybe another year, when I applied to be the assistant branch manager. I've been the branch manager now since January of 2017, so about five years now.
Growing up with a single dad, financially we struggled a lot. Not to sound corny, but helping people is the biggest thing about this role. The passion part of lending for me was being able to teach people how to build their credit, or teach people who have bad credit, how to improve it. With lending, you hold the power to really help people in tough situations. One guy that sticks out that was someone we loaned $800 to buy a suit to go to his dad's funeral because he was in a spot where he couldn't afford to buy nice clothes.
Its stuff like that which has kept me going. Wildfire also has good leadership and a good marketing department. They also allow us to participate in the community, help out and give back. Having kids and a family is sometimes hard to do that as much as I should, but I do enjoy it.
It's been good being a dad. I'm proud of my kids. One of the biggest rewards of being a father is seeing my kids be better than me.
I actually had a guy call me recently saying, 'Brian, your daughter is very impressive. I'd like to offer her a job.'
He knows me through Wildfire and he teased me saying, 'How in the heck is she your daughter? You were a goofball in school, so where did she come from?'
Hearing things like that makes me feel good."
—Brian, Branch Manager of the Saginaw West Branch