Our Staff...
...Their Stories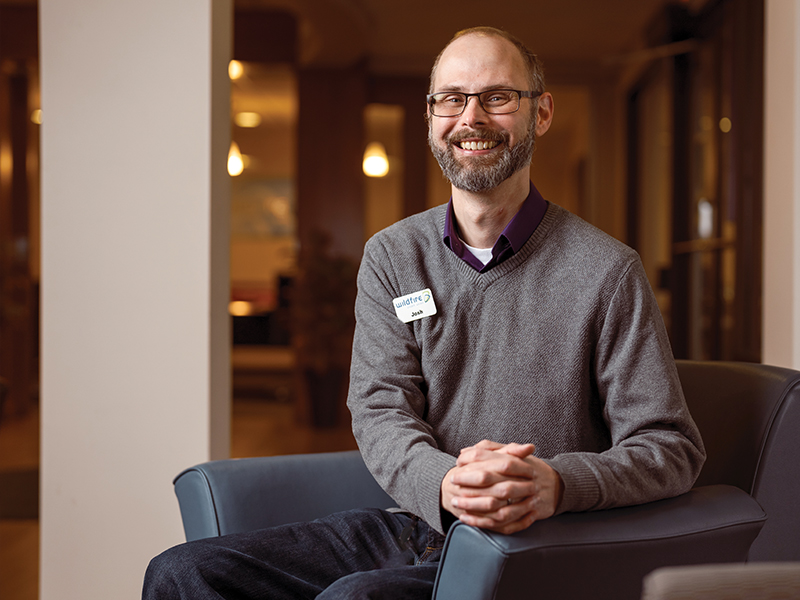 "Here at Wildfire, I'm a member service representative (MSR) in our Bay City office. I assist members with IRAs, new accounts, personal loans, auto loans and things of that nature.
The job takes patience, the ability to listen and try to empathize and understand what members are asking for so we can offer viable solutions that are good for them.
I want to make sure that I'm making a difference in somebody's life. Depending on who comes in and what they need, sometimes that means giving them credit counseling. If I can't do exactly what they want at that time, I'll give them a plan that could get them where they want to be.
Outside of work, I love being outdoors, camping, hunting and fishing. Growing up, my dad was really big on being outdoors and he would take me along. It's peaceful, it's tranquil, and it's a chance to get away from everything else and just be outside for a little while. You're totally unplugged from the rest of the world.
My proudest moments are definitely going to be the births of all my children. Watching them grow and turn into adults is amazing. My three oldest are all grown now, so to see the people they have become is cool. You remember when they were little…and now they are doing things like buying a house! It's crazy.
Things I've learned about parenting: sometimes the answer has to be 'no'. That one for me is really hard because if the kids want something, I desperately want to give it to them. But sometimes the answer really does have to be 'no'.
Parenting also teaches selflessness. I've never been a very self-centered type of person, but after the kids were born, you really start thinking, 'They need things before I need things.' If it comes down to a decision about who gets a new shirt—it's not going to be dad.
But the most important lesson I've learned is to make sure your kids know you love them."
—Josh, Member Service Representative