Our Staff...
...Their Stories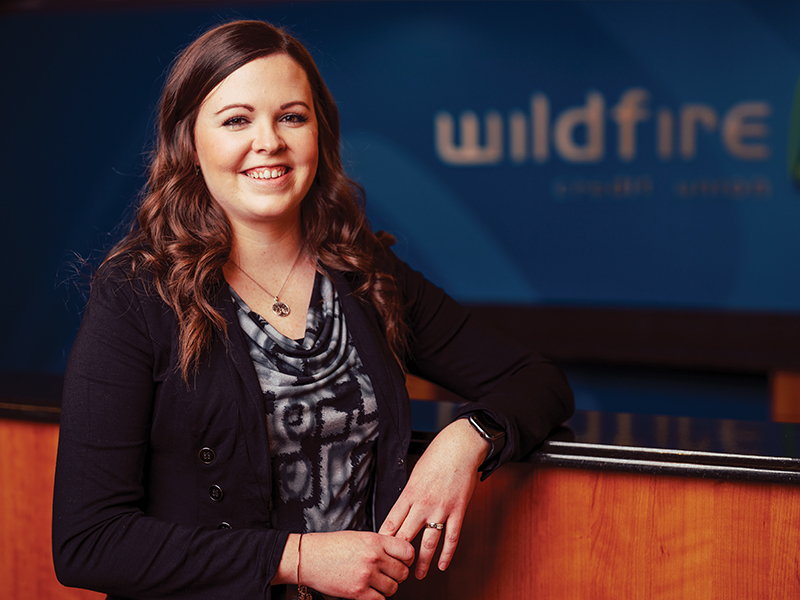 "I feel like I am one of the lucky ones when I think about my first job. I worked at McDonalds for six years and as a shift manager for most of that time. I loved it and it taught me a lot. It taught me how to become a manager and how to deal with a wide variety of customers. It was very fast-paced and there was never any downtime. My goal was to have my own franchise—but I was also a single mom then and working first, second and third shifts every week became very difficult to do.
Initially, I made the switch because I needed to work daytime hours. I didn't have any experience in finance, but the hours appealed to me because of daycare, so I accepted a part-time teller position at Wildfire Credit Union and a month later, I was promoted to a full-time teller.
About three months after that, I was promoted to vault teller and helped open the Bay City branch in 2010. I loved owning the responsibility of being a leader for the teller line. After about two years, I wanted to become a member services representative to learn more about what the credit union could offer members. I stayed in the branches for another year before moving into the call center to expand my knowledge. I was in the call center for two years as a call center level three loan officer. Then I became the call center assistant manager for six years, before accepting this position as manager.
The call center is very fast-paced, and my team is constantly working with members over the phones, through online banking e-messages, and chats. We deal with a wide variety of things, so we must function as many departments at once: we have to be a collections department, card services, and accounting. There are so many different things we need to learn, so I'm constantly training myself. I learn something new every day because I have to keep up with everything to assist the team. I also love managing our Frontline Support team because they bring a certain level of efficiency as a back-office department that keeps the rest of my team focused on members. This recently created department is exciting to me because of possible future growth.
I love my team! It's like a family and they definitely drive me. I have a great relationship on a personal level with each and every one of them. They are the reason ‌I like my job so much. I don't foresee myself leaving this team ever—I see myself retiring here. Many people I know switch jobs often, for whatever reasons, but I've been here 12 years and I don't ever see myself wanting anything else. Why leave when you have something great?
Another big part of my life is being a mom and I love it. It's challenging and I like a good challenge! I learn so much. My boys teach me about myself all the time. I love that I have a 14-year-old, a seven-year-old and a four-year-old, because I'm dealing with the teenage phase all the way down to the toddler phase.
It's both the hardest and best thing. It's definitely the hardest because as a parent, you fear that you are failing your children. I always strive to do better in the hopes that they have a brighter future. It's the best thing, because your children are going to become the next generation of leaders, influencers, athletes, and comedians. As parents, you buy into your children's dreams, and you want nothing but the best for your children. You also want them to make an impact because of all the struggles in the world; like hunger, poverty, or abuse. You just want your kids to be a positive impact in some way, and I think raising children that way will only benefit the future.
Watching my children interact and help each other makes me proud. I teach my kids that you don't have to be the smartest, you don't have to be the best at any sport, and you just have to always be the kind kid! They live by that, and I think that's what makes me the proudest.
I am very grateful for the opportunities that I have been blessed with so far. I would have never thought as a single mother, working at McDonald's that I would now be happily married, with a house full of kids, and a career that I absolutely love. My story can be a testament that when you're dedicated, work hard, and stay true to yourself, you will be successful in whatever you do."
—Katie, Call Center Manager