Our Staff...
...Their Stories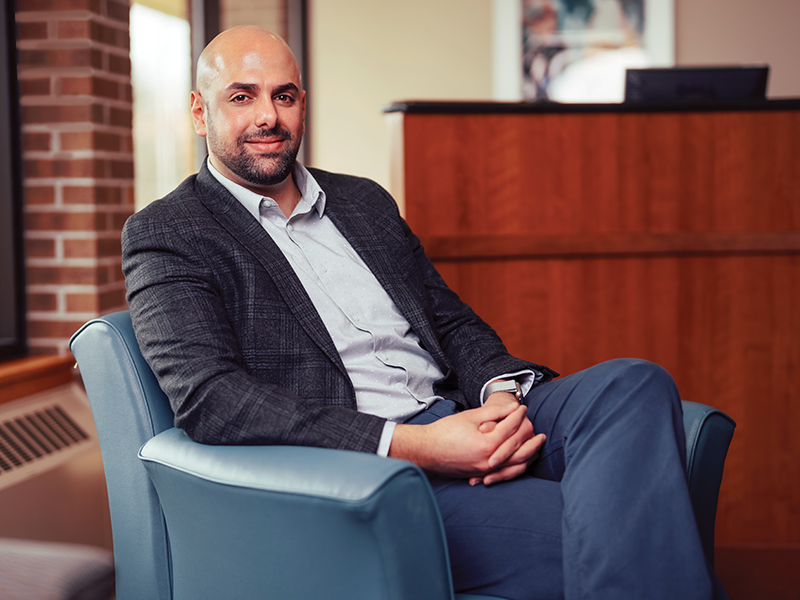 Before I came to Wildfire, I was at an area bank as an Assistant Branch Manager. I worked there for a little less than five years. At the time, the bank went through several mergers, and that's when I decided to start looking for something else.
When I started looking for a new career, I found that Wildfire was hiring a mortgage closer. I interviewed, and I guess I interviewed so well, that they offered me the underwriting position rather than the closing position. They said, "We think the underwriting position would be better for you."
At the time, I didn't have any underwriting experience. As a matter of fact, I did not like working with underwriters when I worked with my previous employer, because I every time I dealt with an underwriter, there was a problem. I thought, "I'll never be an underwriter."
I said, "Okay, I'll take it."
I think underwriting and underwriters can be very, very demanding. I think I just need to come at it in a gentler way. I think that's what I brought from my experience of working with underwriters. I love working here. When I first started, everybody just embraced me. I think by me coming with a great student mentality also is what set me apart and what made me appreciate working with this credit union.
My parents are originally from Bethlehem. My dad was born in 1966, and then in 1967, a war broke out between the Israelis and the Palestinians, forcing my dad's family to flee the country.
My grandpa took his family and moved to the United States. They ended up in Sebewaing where my grandpa opened a video store, back in the days when there were video stores. When my dad graduated high school, he bought a party store right next to the sugar factory, which he still owns to this day.
They would go back and forth to Bethlehem to visit family, and that's how my dad met my mom. They got married and he brought my mom here.
I lived in Bethlehem for about 10 years from 1994 to 2004, and I loved it. The people are very social. The weather is like California weather, every single day, and I have lots of family in the area.
My dad built a house there, right in the valley, in a little town called Beit Sahour. Beit Sahour is where the angel appeared to the shepherd's to tell them that Jesus was born. My house is a two-minute walk from that field, next to a beautiful church that they built.
Then, in the year 2000, the Intifada happened. Intifada means 'the uprising' and that was a conflict between the Israelis and the Palestinians. Basically, it was another war and during that time, there were curfews every single day. Curfews meant we couldn't leave our home. As a child, I couldn't go to school. My parents couldn't go to work. We couldn't go buy food for weeks on end. We were living at home and we couldn't leave.
It sounds like a lot, but I am grateful for these experiences. They make me who I am, and I would never change them. They made me and my family stronger.
It also made me appreciate living in the United States, because something like that would never happen here. I want my kids to be raised here. I want my kids to not have to live through that, because I lived through that.
I have two kids, a two-year-old and a five-year-old, both of them born here. We travel back and forth to visit family, but my daughter has not been to Bethlehem yet because she was born in 2020 and we didn't leave. But my wife and my two kids are going there next month! My wife hasn't been there or seen her family for three years, so she's very excited to go back.
My son was born in 2017 and I baptized him at the Nativity church in 2018. My great grandfather was a Greek Orthodox priest, and in the late early 1900s, he built the Greek Orthodox church in Beit Sahour I'm baptizing my daughter this year, even though she's almost two and a half years old now. I waited because I wanted to baptize her at my grandpa's church.
I'm still learning, I'm still a young father. I shouldn't put too much responsibility on myself, but at the same time, I need to focus on it. It's not something I take lightly.
The same thing can be said for my wife, as well. She doesn't take raising those kids lightly, and she wants to become a great example for them. I look up to her. She started her own business and it's thriving. Every single day, she's busy. I'm so proud of her because she came here five years ago and today, she's a U.S. citizen with a thriving business and two kids. It's amazing and I look up to her every single day."
— Sameer, Mortgage Underwriter