Tips for Saving on Fall Decorations
Date Published: Sep 21, 2022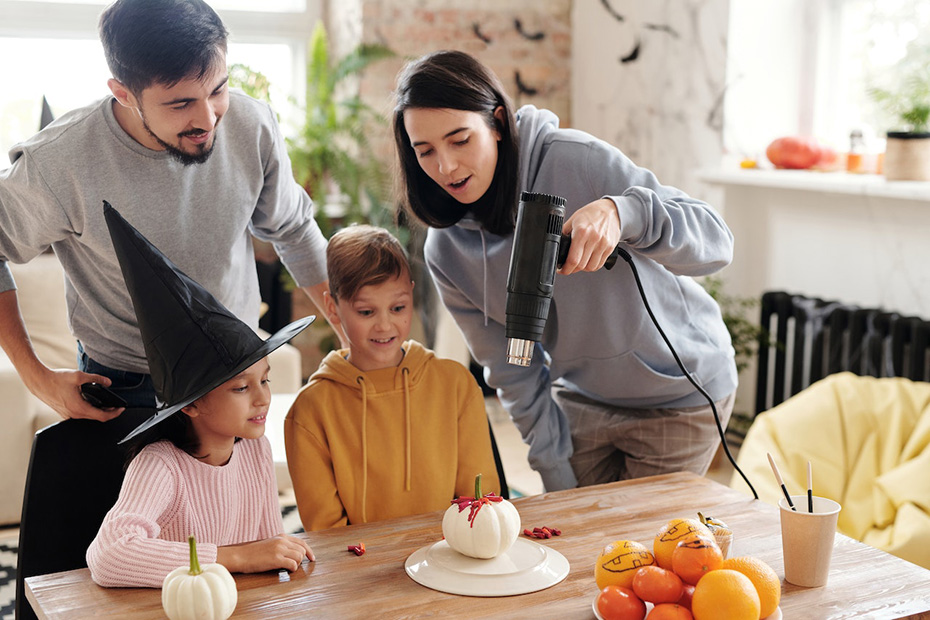 The year 2022 is flying on by, and if you can believe it fall is upon us as fall flavored drinks, food, and home décor begin to line the aisles of stores. Decorating the place you call home to reflect and make the most of the autumn season can be an expensive project, but it doesn't have to be.
We are all for making the most of the seasons and the holidays they bring. So, we are going to provide you with some handy tips below on how to decorate for fall, without having cash fall from your wallet like the leaves.
Utilize a Wildfire Rewards Visa® Credit Card
To give you an extra boost in your decorating endeavors, if you haven't already, acquire a Wildfire Rewards Visa card to give you an edge in shopping. You can apply for one online today!
The Wildfire Rewards Visa has this awesome feature attached to it called Cash Back Rewards. This means that every time you use your Wildfire Credit Card to pay for fall decorations you will receive rewards points. You can then redeem these reward points at a later date for cash back, meaning you will earn money as you buy your fall decorations.
You can convert your points to cash at any time for any purpose, or you can save them and use them at a later date. When converting your points to cash back, the possibilities are endless: home improvement, gift cards, travel, concert tickets, or for more fall decoration items.
Keep an Eye Out at Grocery Stores
Grocery stores and farmers markets can hold many fall decorations that often at first glance may not appear as a decorative item, but can be made into one. Not to mention for a fairly cheap price as well.
Items such as pumpkins, gourds, squash, ears of corn, which are commonly used for this thing called food, can also be traded to be used as decorative pieces inside and outside your home. While you are browsing the produce section for decorations, don't forget about the flower section at grocery stores either!
You can find flowers such as mums, sunflowers, black-eyed Susan, and much more all for some pretty good prices. Another plus is that it will save you a little time and gas by being able to shop for groceries and fall decorations at one stop.
Just be sure to replace your decorative food items when they start to show signs of going bad or simply paint them with a waterproof varnish to make them last several years!
Utilize Pillows & Blankets
Changing your everyday throw pillows for fall themed ones is a very easy and lower cost to add to your home's fall theme. Unlike squash, pillows also can last a pretty longtime so this is one decoration that can be used time and time again, saving you from buying more new decorations each year.
You can also buy pillow inserts and covers. Simply switch out the covers to match the time of year saving you money not only for fall, but for any season or holiday.
Like pillows, blankets are another item used both for comfort and decorations that can last for several years. This is where fall themed blankets come into play. Not only will they give your house a warm feeling and keep you warm on colder fall nights, but a fall theme or colored blanket will get two jobs done in one.
Drape your favorite fall blanket(s) over your couch, in a fall themed blanket basket, a blanket ladder, or on the end of your bed. Blankets are an easy and long lasting decoration, with lots of ways to use them.
Signs
Keeping with the longevity theme, wooden or plastic signs are a very good way of add personality to your fall theme, by picking a sign that reads something that relates to you. Whether it be a sign that reads something you say often, a saying or phrase you like, one that matches who you are as a person, or maybe it is a painted sign with images that bring you happiness.
Signs can be displayed pretty much anywhere, indoors or outdoors, from your front porch to your kitchen to your bathroom. You can also find great deals on fall signs at the end and after the season to give you a jump start on next year!
Another sign route you can take is buying a letter board sign where you can customize the message it says and it can cover all seasons and holidays!
Create Your Own
If you have the urge to be crafty or you like creating a project for yourself, you can build your own fall decorations. There are no shortage of stores that will have many different, and wallet friendly, items that can be used to help you create your own fall decorations.
You can also recycle materials in your own home and outside such as fallen leaves and pinecones to aid you in making the perfect fall decoration. The best part is that since you made it, it becomes that much more special and unique.
Embrace Fall
When a season comes around embrace it and experience it to its fullest. Seasons and holidays deserve to be celebrated, so make the most of each one that comes. Whether is it stocking up on pumpkin flavored food and beverages, stopping at your favorite coffee shop once a day for that pumpkin latte, or decorating your home to reflect fall - Live it up and embrace fall!
Don't forget! If you use your Wildfire Rewards Visa to buy your décor, you will get Cash Back bonus points to help make decorating for fall a little less hard on your wallet.